How to use the shape selector?
This tool has been built essentially to ease and accelerate the identification of a shell from the species recorded in the Conchylinet database.
It adds the shell general shapes to the filtering features of the specie plates
Description of the general shapes (level 1)
Group
Shape
Description
Example
Univalve
not
coiled
Category 1
Univalve shell
Shell not coiled
limpets
Univalve
coiled
Category 2
Univalve shell
Coiled shell
Aperture small: aperture height lower than one third of the shell total height
screw shells
Category 3
Univalve shell
coiled shell
Aperture medium: aperture height between one and two third of the shell total height
periwinkles
Category 4
Univalve shell
coiled shell
Aperture large: aperture height higher than two third of the total shell height
cones,
cowries
Bivalve
Category 5
Bivalve shell
shell round to ovate
fine to strong concentric sculptures
tellins,
clams
Category 6
Bivalve shell
shell ovate to tapezoidal, solid
fine to strong radial sculptures
cockles,
scallops
Category 7
Bivalve shell
shell elongated and light
faint or no sculptures
mussels
Category 8
Bivalve shell
shell of various forms
raw or spiny sculptures
oysters,
box shells
Others
Category 9
other shell shape and shell-free mollusk
tusk shells,
seaslugs
Usage
When clicking on a main shape, the related sub-shapes will be displayed.
You have to choose and click one of these sub-shapes to filter the plates accordingly.
To deactivate the shape filtering, just click the RESET button on the right.
Note that if the shape you selected does not match any species already filtered by the specie filter, the result will be nothing!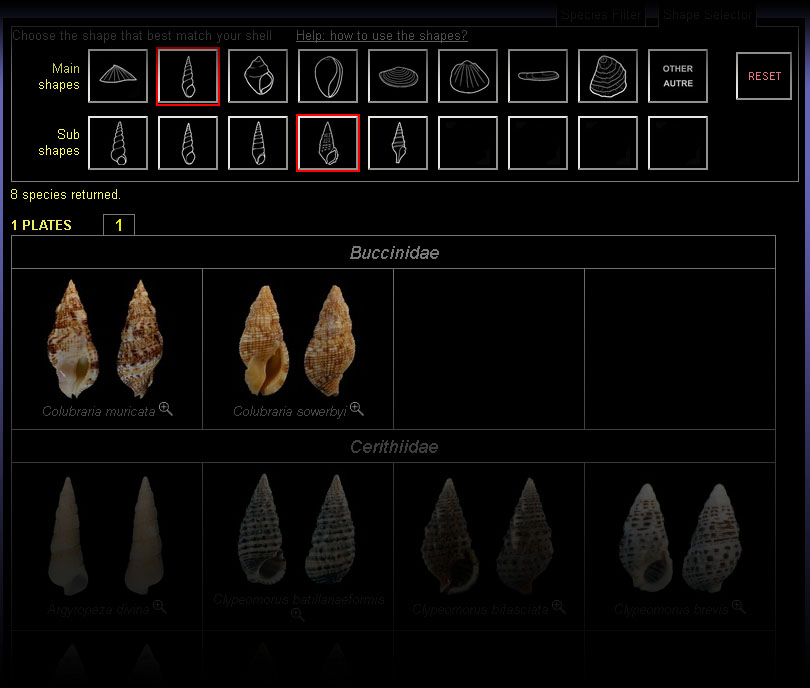 Notes: the number of shapes has been limited to avoid too much complexity for the novice collector trying to identify his shells.
Moreover, the specie shapes have been set arbitrarily, you may not agree with some choices done to a specie.
Feel free to send comment about it and propose more relevant shapes drawings.