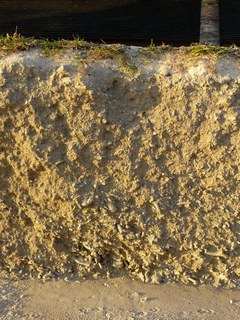 Having lived here for a few months I could collect a great number of species. Most of them come from walks along the beaches at low tide. The quite sea in the area helps to find dead shells in decent conditions.
In the south, the beach has been artificially built up 20-30 years ago from sand dredged in the middle of the lagoon. Little by little, the erosion releases the shells and other things locked in. Thus some uncommon species can be found but most of them are in subfossil conditions. Certain species may have disappeared from the area since the embankment was built up like this Pleuroploca filamentosa or this Harpa amouretta .
At low tide, many gastropods can be observed like the common Nerita plicata and the very abundant Planaxis sulcatus . In the black basalte area it is possible to find the typical Cypraea mauritiana together with the Purpura persica most often locked in crevices.

After 6 months of survey, I listed over 200 species of bivalves and gastropods. Most of them were rather uncommon but the diversity of the site threatened by overboating and overpopulation is still good. Most of them are listed in the Conchylinet collection, so do not hesitate to discover them using the Interactive Plates feature of the site.